Photo credit: Shayan Asgharnia
Curry Stone Foundation Director of Educational Initiatives and Social Design Insights Host Eric Cesal featured in The Sydney Morning Herald as part of Humanitarian Design Week.
THIS ARTICLE WAS ORIGINALLY PUBLISHED ON THE SYDNEY MORNING HERALD
After the 1994 Rwandan genocide, humanitarian efforts were beset by an unexpected problem. Aluminium tent frames built for refugees were being stolen and resold. Japanese architect Shigeru Ban helped solve the problem by using a material with similar structural properties, but no resale value – paper tubes. A year later, when the Kobe earthquake struck, Ban once again showed the material's versatility. Since then he has become humanitarian aid's poster boy.
"The original deployment of paper tubes was quite brilliant," says US architect and disaster relief expert Eric J. Cesal, special projects director for non-profit Curry Stone Foundation. "But there's a lot of circumstances where tubes don't make any sense. We have to think of disaster reconstruction more holistically. The design community is perpetually obsessed with finding some incredible universal 'flat pack inflatable' housing solution, because it strikes us more viscerally."
Instead of importing paper tubes or dropping in converted shipping containers, architects could use local resources, stimulate the local economy and simultaneously limit the carbon footprint.
Talking to locals is key, says Cesal, whose experience extends from Hurricane Katrina to 10 years working with US charity Architecture for Humanity.
"When a lot of people think about disaster architecture they imagine someone flies in 45 minutes after the disaster and puts up a shelter and disappears," says Cesal on the phone from Rwanda's capital, Kigali. "That certainly goes on, but it's considered flawed practice. It's talking and being willing to listen. It's asking 10 questions for every statement you make."
As part of Humanitarian Architecture Week, an exhibition at RMIT Design Hub – A Day in the Life of a Humanitarian Architect – profiles the reconstruction of several communities around the world in the wake of such natural disasters as hurricanes in Haiti and earthquakes in Pakistan. Humanitarian architecture, as the exhibition demonstrates, does not only deal with natural disasters. Underlying it is the dispiriting truth that the crises extend to manmade disasters, from genocide in Rwanda to social disadvantage in remote Aboriginal communities.
The exhibition includes Cesal's contribution on a school in Haiti, alongside nine Australian architects working in the humanitarian field. Among those having a major social impact are Watson Architecture and Design, with its Kesho Leo Children's Home in Tanzania, and Iredale Pedersen Hook (IPH) for the Fitzroy Crossing Renal Hostel.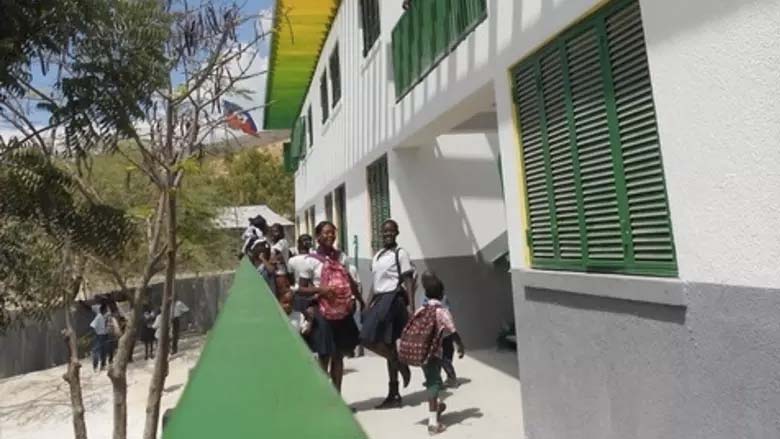 IPH has collaborated with Indigenous communities for 25 years, producing work that ranges from housing to schools, a prison and a courthouse. Its renal hostel provides a home for people in remote communities who would otherwise have to relocate 250 kilometres to receive thrice-weekly dialysis.
"Due to its remoteness you're not just talking about a medical facility, but a support facility for those who come with the patient as well," says IPH co-director Martyn Hook.
Despite the best intentions, a "boots and all" approach is at odds with humanitarian architecture.
"It's not just a matter of dropping a building in, you have to be culturally sensitive wherever you are," Hook says. "We have to observe the situation carefully and listen and ask questions."
Cesal agrees. "In Haiti we didn't build anything for a year," he says. "It took that long to understand the landscape and understanding what Haitian architects were doing and what they needed. It makes no sense to build a great building if a neighbourhood is falling apart. Or to do civic improvements if people don't have anywhere to go to work."
One of Cesal's favourite designs is by Pakistan's first female architect, Yasmeen Lari, who joins Cesal as keynote speaker for a free public lecture, The Architecture of Humanity, next week. To cope with two devastating earthquakes, Lari designed a prefab bamboo building. Some 30,000 have been produced. However, it's not Lari's buildings that Cesal marvels at, but a stove she designed.
"Think about what a stove does," Cesal says. "It allows women to resume cooking and improves nutrition. It promotes community – as people gather around food and cooking. It promotes cultural heritage. That's hardly ever discussed: how much disasters destroy cultural heritage. The building goes away, art, indigenous culture goes away and is replaced by standardised solutions from abroad. To me [Lari's stove is] design work at its best. Trying to solve the problem of cultural destruction, familial alienation, spatial alienation and you've got a $7 solution."
The Architecture of Humanity: Two Stories of Architects Transforming Lives through Design, a lecture by Yasmeen Lari and Eric J Cesal, is at RMIT Design Hub, Building 100, Victoria Street, August 8, 5pm-7pm; A day in the life of a humanitarian architect, August 9, 1pm-3:30pm.